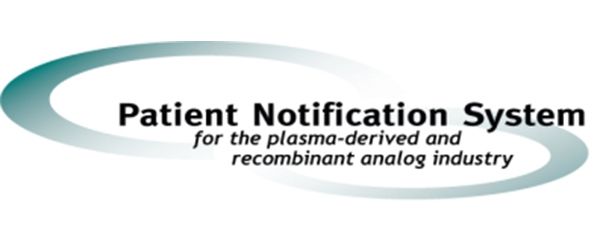 The Patient Notification System was established to provide information to patients and healthcare providers on withdrawals or recalls of plasma-derived and recombinant therapies. The Patient Notification System, led by the Plasma Protein Therapeutics Association, was formed and funded by product manufacturers, with feedback from patients and their families. It is a free, confidential service that is available 24 hours a day. The Patient Notification System is operated by  Stericycle, Inc., an independent organization that specializes in pharmaceutical notifications.
Consumer groups involved in the system are:
Alpha-1 Association
Alpha-1 Foundation
Committee of Ten Thousand
Hemophilia Federation of America
Immune Deficiency Foundation
National Hemophilia Foundation
GBS/CIDP Foundation International
Manufacturers and distributors involved in the system are:
Baxter BioScience
Bayer HealthCare, LLC
Biotest Pharmaceuticals Corporation
Cangene Corporation
CSL Behring
Grifols USA, Inc.
Kedrion Biopharmaceuticals
Novo Nordisk
Octapharma USA, Inc.
Pfizer, Inc.
Registration
Each person who registers with the Patient Notification System a preferred notification method—email, phone or fax. All participants also receive a first-class letter to ensure the information was received. Participants can also select which products they wish to be notified about.
NHF encourages everyone to register so they can be directly notified when adverse conditions occur with blood products.
To register with the Patient Notification System, call: 888.873.2838 (888-UPDATE-U) or visit the website: www.patientnotificationsystem.org.
---
Copyright National Hemophilia Foundation