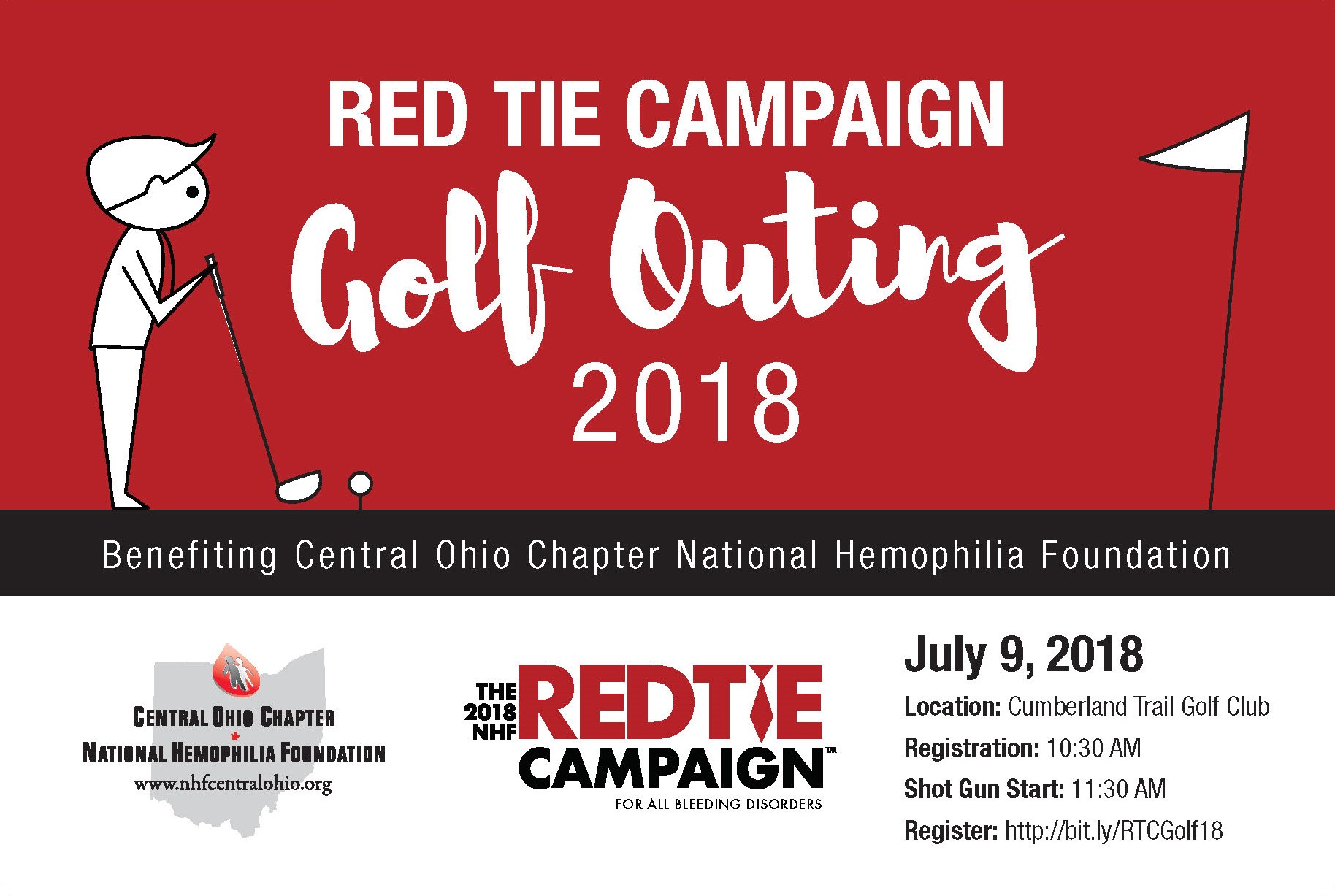 Monday, July 9, 2018 from 10:30 am - 6:30 pm
Cumberland Trail Golf Club   8244 Columbia Rd SW, Pataskala, OH 43062
The Red Tie Challenge Golf Outing will benefit the Central Ohio Chapter, NHF and those living with bleeding and clotting disorders. Limited to 72 golfers, registration for this event includes: Boxed Lunch, Swag Bag, Cash Bar, Award Dinner and Raffle Ticket.
Registration Begins at 10:30a
Shotgun Start at 11:30a
Dinner & Awards with Live Band at 5:00p
Featured Golf Pro and Dinner Speaker, Perry Parker. We are excited to host Perry as our keynote speaker for 2018. He brings a wealth of experience. Perry, has played golf in forty-nine states and eighteen countries; as a pro tours that include: Asian, Australasia, Canadian, Nike, Japanese, PGA tour, and many mini-tours in the United States. Perry notes his proudest moment as as a professional golfer is that to have played in three United States Opens (1992, 1997, 1998). He made the cut in 1997 at Congressional C.C. in Washington D.C., holing out a shot on the ninth hole for eagle during the second round. In addition, he has ten career hole-in-ones. His low competitive score is a 62, and has also shot 29 for nine holes four times. Perry also has a bleeding disorder and will share about his life and experiences with pro golf and hemophilia. 
2018 Fees 
$400 Foursomes
• Four Golfers
• One Swag Bag per Golfer
• One Raffle Ticket per Golfer
$100 Individual Golfer
• One Swag Bag
• One Raffle Ticket
$45 Dinner Guest Only
• Admission to Awards Dinner
Golfer Registration Includes:
Boxed Lunch, Cash Bar, Award Dinner and Raffle
Sponsorships Available - to confirm please contact Linda Slocum at 614-902-3965 or lslocum@hemophilia.org
$7,500 Presenting Sponsor
• Twelve Golfers - each receiving an outing swag bag, and raffle ticket 
• Opportunity to Address Attendees at Award Dinner
• Two Hole Signs - 1 & 18
• 1 Page Ad in LifeBlood Magazine*
• Social Media Spotlight
• Logo on Challenge Printed Material, Press Release & Website
$5,000 Gold Sponsor
• Eight Golfers - each receiving an outing swag bag, and raffle ticket 
• One Hole Sign
• 1/2 Page Ad in LifeBlood Magazine*
• Social Media Spotlight
• Logo on Challenge Printed Material, Press Release & Website
$3,500 Silver Sponsor
• Four Golfers - each receiving an outing swag bag, and raffle ticket 
• One Hole Signs
• 1/4 Page Ad in LifeBlood Magazine*
• Social Media Shout Out
• Logo on Challenge Printed Material, Press Release & Website
$2,000 Bronze Sponsor
• Four Golfers - each receiving an outing swag bag, and raffle ticket 
• Listed as sponsor in LifeBlood Magazine*
• Logo on Challenge Printed Material, Press Release & Website
*LifeBlood Magazine is a quarterly production of the Central Ohio Chapter. This award winning publication reaches over 700 households